Error processing SSI file
'Story of Loyalty and Trust Betrayed' – Comcast SportsNet Exposes Cabrini College for its Decision Not to Renew Dzik's Contract.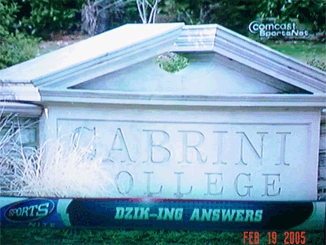 Comcast SportsNet aired a seven-minute feature on both its 6:30 p.m. and 10 p.m. SportsNITE shows on the February 18, 2005 telecast, educating the public over the current crisis at Cabrini College, which has resulted in the contract of Head Men's Basketball Coach John Dzik not being renewed after 25 seasons.
The Complete Transcript is linked above.
NBC10 Calls Dzik's Dismissal 'A Travesty'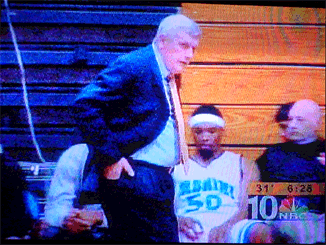 NBC10's sports wrap-up on the 6 p.m. Saturday, February 19, 2005 telecast and the Noon Sunday, February 20, 2005 telecast threw in their two cents regarding Cabrini College's decision not to renew John Dzik's contract.
---
One Last Time a Success
PRESS RELEASE, PICTURES PG 1, PICTURES PG 2, WPVI TRANSCRIPT
Over 1,000 alumni, students, family and friends packed the Dixon Center on Feb. 16 when Cabrini hosted Neumann in John Dzik and staff's final regular season game at the helm of the Cavaliers. Cabrini topped Neumann, 68-62, to earn a home first round conference playoff game on Feb. 19 at 3 p.m.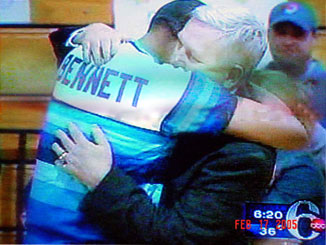 WPVI Channel 6, an ABC Affiliate in Philadelphia, ran a story covering Feb 16th's last regular season home game.
The complete transcript of the WPVI coverage is linked above.
---
Many of the voices heard thus far have been from people who were directly touched in one way or another by John Dzik. Now we are beginning to see letters from alumni that are non-athletes or 'loyalists' to Dzik, but in fact upset alumni. One such letter was received by Robin Larkins, '85, former Alumni Association President (1995-2001), former Student Government Association President and former Cabrini adjunct professor.
"I wish I was writing to you under more positive circumstances, as opposed to the serious concerns raised over the appearance of the articles on John Dzik and his reported dismissal by Cabrini College. The fact that these articles got to the point of appearing throughout the Philadelphia media, and then forwarded well beyond, is very disappointing. After reading the articles, what is even more disconcerting is the seeming lack of strategy in handling and addressing a personnel situation (which I am sure has many sides to it) -- that now has grown into the perception of a bigger issue by many who are speculating and commenting negatively on the treatment of not only a long time employee, but the longstanding tradition he represents at the College - especially in his advocacy for students, particularly minority students."
---
Cabrini Releases Middle States Meeting Schedule; College Community Invited
In an e-mail sent out to the entire campus community, President Iadarola announced the dates and times of meetings with the Middles States Evaluation Committee on March 14, 15 and 16. Several of the meetings are open to staff and students, including the final exit interview which is open to the entire campus community.
An Open Staff Forum will be held in the Mansion Dining Room from 3-4 p.m. on Monday, March 14. An Open Student Forum will be held in the Mansion Dining Room from 4-5 p.m. on Tuesday, March 15 and the entire campus community has been invited to attend the Exit Interview with the Middle States Evaluation Team in the Widener Lecture Hall from 11 a.m. to noon on Wednesday, March 16.
---
For the sixth and final time in his Cavaliers coaching career, John Dzik has been recognized as the best coach in his conference, earning the 2004-2005 Pennsylvania Athletic Conference Coach of the Year award. The PAC did something the College administration would not, sending Dzik out with the style, class and dignity his 25 years has earned him.
A conference founded by Dzik, the Cavaliers won eight PAC banners during his tenure, including an unprecedented six-straight from the conference's inception in 1992 to 1998. In addition to Dzik, five Cavaliers were recognized by the conference, including the PAC's Rookie of the Year, freshman Jeff Dailey.
Seniors Ty Teasley and Messiah Reames were named to the second-team, while sophomore Jim McMahon received honorable mention. Senior Dan Clemens was named to the All-PAC Sportsmanship team.
It is interesting to note that Dzik may become the first collegiate coach ever to be named his conference's coach of the year and not to have his contract renewed for the subsequent season.
The complete release can be found in the below link.
PAC OFFICIAL PRESS RELEASE
---
Other Troubling News from Cabrini College
FACULTY LETTER (WORD DOC), FACULTY LETTER (TEXT ONLY VERSION)
It has come to our attention that Cabrini College has decided to cut the salary and benefits of the loyal members of the Cabrini College Faculty. The Cabrini College Faculty Senate states in the letter that:
"At our November, 2004 meeting, the Faculty Senate invited Ms. Lisa Shimada (Director, Human Resources) to present and explain the College's proposed change in benefits. At this meeting, Ms. Shimada informed the faculty that beginning with the March 1, 2005 pay period the College would reduce the benefits of a significant portion of faculty and staff. While we have been aware of these changes months ago, we have never received a formal statement, explanation or clear rationale for why these were necessary. Our representatives on the Benefits Committee have repeatedly reported back to the Senate that their concerns were not directly addressed and that decisions were made in the absence of any real sense of collegiality."
To date there has not been any response to the faculty request for reconsideration of the change. Read the faculty's letter to Dr. Iadarola above. Apparently Cabrini shows the Faculty of the College the same 'Respect' extended to Coach Dzik and other staff members.... Stay Tuned for Updates!
---
Alumni Game Wrap- Up
Thanks to all of the people who attended the Alumni Game on Saturday February 5th. The men's game was packed, and we had over 50 men's basketball alums at the game. Here are some stats from the game--we received over 60 letters of support from alums and current students, and had well over 100 alums at the after party! The day was a unqualified success... thanks for your support! Keep John Dzik!
Thanks to JD McGillicuddy's ( www.jdmcgillicuddys.com ) for hosting the after party.
---
The Dzik Story Remains a Issue to the Print Media
To date there have been many articles written about Coach Dzik and the "Cabrini Controversy." For your convenience, we have compiled all articles written to date on this site. The link above will take you to this section. Three new articles have been written this week.
---
"Is this a major student concern? One of the questions I have with the Loquitur, you say this is a student paper. I speak to students, I have students in here all the time - I haven't heard of these things. I could be out of the loop. Are these burning student issues? Lottery is a burning student issue, housing is a burning student issue, and I hear that, I've heard it from students - I haven't heard any of these from students. I will say that in the past I've had members of the (Loquitur) editorial board come here and said 'this is not an issue with the students, but we are getting pressures from other sources to pursue the article.' And I'm just curious, is this pressure from other sources?" - President Iadarola.
Unfortunately it is not known in what context this statement was made by the President – the current Dzik crisis, the cutting of faculty benefits or how any of this relates to the Middle States reaccredidation process which Cabrini is currently going through. None the less, why does the President feel that these topics are not considered student issues and more importantly why was the question being dodged?
As Loquitur's Shawn Rice clearly states in his editorial regarding the above quote, "the Loquitur's responsibilities also demand that all Cabrini matters whether it relates to students, faculty or administration should be considered and examined on how they affect the entire community." (This letter can be found on this site in Media Coverage under Defining Loquiturs Purpose for Iadarola).
---
Another day, another resignation from an alumni position at Cabrini College as Katie Bartosik, 2002, who resigned as Class Agent, joins five other alumni who have also resigned from volunteer positions over the College's decision not to renew John Dzik's contract, and the College's subsequent lack of comment.
"It would be very hypocritical of me to feel the way that I do and then ask (my fellow alumni) for money for the College. I can no longer do that since I, myself, won't be giving any money to the College, at least not while President Iadorola continues to treat her employees the way that she does. Mother Cabrini and Mother Ursula taught me that. I've seen too much of that through the years. I came to know Dr. Iadarola through my involvement at Cabrini: SGA, Campus Ministry, the academic convocations, and being Class Agent. Yes, she has done so much for the College, the appearance, and the statistics. Well, statistics are just numbers and it's not all about appearance; it's what's inside that counts. I've ignored her mistreatment and disrespect of her staff long enough. Because of this, I too feel disrespected and mistreated. It is therefore my wish to resign my position as Class Agent for the Class of 2002," Bartosik said in her letter which is posted on the "Your Letters" page of this website.
In addition to Bartosik, Nicole Faison, '02, resigned her position from the Alumni Diversity Committee; John Aivazoglou, '88, resigned from the Golf Committee; and David Kerchner, '94, Jeff Hines, '91, Rachel Slaughter, '89, from the Alumni Board.
---
Cabrini's New CORE Values? Administration Can't Be Bothered with Responding to Alumni
Does the Administration even care about the alumni anymore? This question is a reasonable one in light of the letters Cabrini continues to receive on a daily basis as well as the administration's responses through form e-mails and letters.
Michael Fallon, '87, has sent in two letters, the later of which received a form e-mail response from Vice President of Institutional Advancement Robin Moll. Except the form response was not even sent to Fallon from Moll, instead Moll had her assistant Kathy Lennon forward the response from her to Fallon.
It looks as if Moll has more important items in which to attend than the alumni.
---